Two years of Shanghai BMW show has ended, in the construction machinery industry event, ZOOMLION 4 products ZCC2600 crawler crane debut, shine.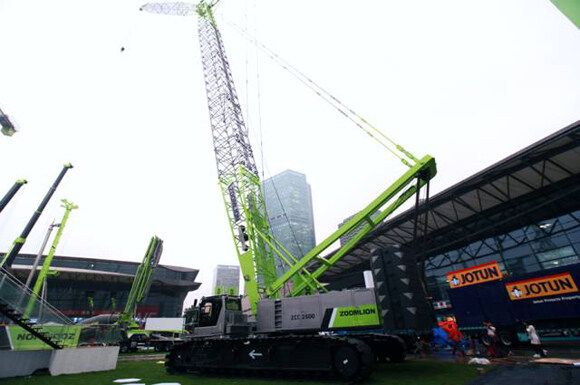 ZOOMLION 4 ZCC2600 crawler crane
The ZCC2600 crawler crane during product development, technical team to collect a large number of customers and market feedback, focus on promoting spectrum optimization, modular intelligent design and research, and strive to achieve the ultimate in four aspects of technology, quality, cost, service. By improving the technical parameters and performance parameters, improve the efficiency of the product.
Efficient, fast, one step ahead
1 agencies to speed up the operation of 20%, high efficiency and speed. Single action speed unchanged, ensure lifting, luffing, rotary, walking at the same time, improve the system control program, improve light load efficiency of compound action, smooth, smooth promotion of compound action when switching operation.
2 since the disassembly function upgrade, the main arm of the 62 m + tower arm assembly time of not more than 6 hours, reaching the industry first, significantly better than the competitors in the same industry.
The main arm hanging installation up to 47 meters in length; the tower arm strut mounting special lifting rope; pull board with the arm section transport, the tower arm pull board with the tower arm strut transportation, convenient installation; the main arm bottom arm, arm pull rod plate tower before and after the open position optimization, more convenient connection; crawler frame hanging point mobile, ensure the lifting level, convenient installation. The length of the counterweight is increased, and the ground can not be smoothly guided.